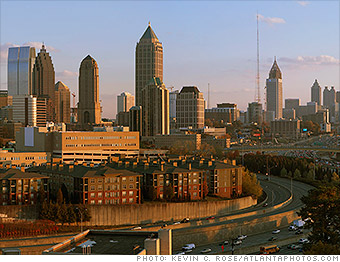 Median home price in 2012: $122,000
Projected home price in 2015: $164,253
Projected annual rent in 2015: $12,255
A knotty foreclosure problem has plagued Atlanta's housing market, with thousands of vacated homes weighing on home prices.
In March, the city recorded a 17.7% drop in home prices, the largest 12-month decline of any of the 20 cities covered by the S&P/Case-Shiller home price index.
Displaced former homeowners have helped push rents 12% higher over the past 12 months, making for some healthier returns for investors.
However, the risks remain in Atlanta, with plenty more foreclosures still being moved through the pipeline.